June 17th 2007
'œ Exclusive new track on Okinawan Chillout Compilation
Due out on August 15th on Pony Canyon "Okinawan Chillout" will feature a brand new Ryukyu Underground track "Chuura". Other artists featured on the Cd will include DJ Takuji a.k.a. GEETEK, CINEMA dub MONKS, Wataru Kousaka, URU a.k.a. manukan (previously Chaos Luda who remixed "East is East" on Ryukyu Remixed).
'œ Nagasaki & Hiroshima DVD Peace Archives soundtrack.
Ryukyu Underground are again working on the soundtrack of a DVD for the Peace Archives Series of Books published by Iwanami .Publishing. In July 2006 we contributed to the Okinawa edition (image below). The series is aimed at Junior High and High School students in Japan with the aim of presenting an honest and impartial account of events such as the Battle of Okinawa and the Bombings of Nagasaki and Hiroshima, something that the Japanese Education Ministry is still struggling to achieve. The next book/dvd in the series focuses on the bombings of Nagasaki and Hiroshima and is scheduled to be published in August 2007.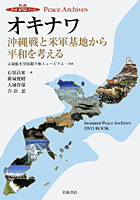 œ Keith Gordon DJ schedule
Saturday 30 June 30 @ Yomitan Yuntan Festival, Okinawa. 12 - 9pm Free concert featuring local bands Duty Free Shop, Hoi Festa, Mizuki, Salsa performance from Salsa Caliente, Art displays and DJs. DJ set sometime between 3-5pm.
Sunday 15 July @ Annual Ocean Day Clean Beach Party, Okinawa (tbc)
Saturday 28th July @ Club Mnd, Naha, Okinawa. "Alhambra" - Live music from Okinawa, Indonesia, India, Middle East and Spain. Eclectic DJ sets featuring funky Arabic, Gypsy, Indian, Flamenco and Okinawa grooves...
DJ.salaam UNAGAMI DJ.Keith Gordon DJ.IzmirADJ.Nu-dhoADJ.KameADJ.VivaADJ.Paul Mauhox
Live
Belly Dance - Anze.S with ISIS Oriental Dance Academy
Indian classic music Live - Mr.Miyashta and Mr Wakaike
Indian classic dance - Makiko Jikihara
Gypsy music Live - Lancu Stefanco
KOUSAKA WATARU and more... VJ.LOVE upopo LABO
Sunday 29 July @ Tokyo - Superdeluxe Special event to launch "Horizon" Project featuring T-shirts designed by photographers, graphic desighners, painters, poets, musicians. T-shirts designed by Keith Gordon will also be launched and on sale.
œ free download! - live dj set 56mb 62min (right click and "save as")
recorded at Full Moon Beach Party, Senaha Beach, Okinawa. September '06
Enquiries for DJ bookings contact here
April 30th 2007
'œ Exclusive Hana Dub remix out on "Peace not War" CD
"Peace Not War Japan' ? CD now available This unique collection is the first compilation of contemporary Japanese peace music and gives Japan its own soundtrack for a place in the new global peace movement. Released in August 2006 on Dynastic Records, the music spans many genres and features well-known acts such as Soul Flower Union, Dry & Heavy, Captain Funk and Ryukyu Underground alongside independent musicians from across the country."
œ Fun-Da-Mental remix
Out now in Japan on Bad News records Fun-Da-Mental's All is War album features a special bonus remix by Ryukyu Underground's Keith Gordon. "786 ALL IS WAR`Tribal War mix"
June 12th 2006
œ Annual Ocean Day Clean Beach Party announced
Ryukyu Underground supports Okinawa O.C.E.A.N and the Okinawa International Clean Beach Club by holding a Charity Beach Party annually and this years event has been finalized. It will be held at a new location this year, Sumiide Beach in Nago City, on Saturday July 15th (Ocean Day Holiday Weekend). This year features Champroots DJs, live music (including Okinawan Minyo and Eisa, Irish folk, Indian Tabla and Santur), Dance performances (Brazilian Capoeira, Bellydance, Yoga performance), Open Air Cinema and an Ambient Chill out stage. The event starts at 2pm and entrance is ¥2000 or ¥1500 for students. Click on flyers above (click for larger versions). More info by mail info@okinawaocean.org or call (098) 965 5371.
œ Keith Gordon DJ schedule
Upcoming DJ appearances
Sat 15th July. Sumiide Beach, Yagaji Island, Nago City, Okinawa.
Okinawa O.C.E.A.N. charity Beach Party. Details above.
Sat 19 August Club Daughter, Nagoya
Sun 20 August. Okinawa Festival in Nagoya, Club Quattro
œ New Album "Shimadelica" out April 26th on Respect Record RES-110 2,730‰~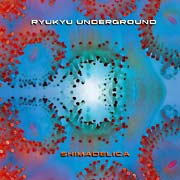 Track Listing ---(Click the title to preview - real media files)

1. Suminashi
2. Shimadelic Sound System
3. Kogane no Hana
4. Udui
5. Sesoko
6. Thirteenth Moon
7. Ashimi Bushi
8. Uprising
9. Erabu no Komoriuta
Review from Farside Music
Shimadelica is the long awaited third album, the first in three years, from the US/UK duo, Ryukyu Underground. 'Shimadelica' sees the guys back in the studio, recording with live musicians and adding beats, rhythms, and some surprises too to create the trademark, unique sound that is Ryukyu Underground.

Jon Taylor and Keith Gordon bring some new ingredients to the RU blender this time. 60s and 70s psychedelic music are mixed with the local sounds of Okinawa. Those local ingredients are still at the root of their music. The largest of the Ryukyu Islands in the deep south of Japan, Okinawafs thriving roots music scene is unique, encompassing minyo and shima uta (meaning eisland songsf) together with an equally vibrant scene of pop, indie rock and dance. Small, dark, cavernous clubs reverberate to the latest beats, contrasting with the white beaches, turquoise seas and natural beauty of the island.
Funky rhythms, progressive house, 90s Brit rock, dub, trip hop, Brazilian, Arabic, Indian plus other world and club influences all help to take the listener on a global trip that begins and ends in Okinawa. Ryukyu Underground have employed the talents of some of the brightest young names from the roots side of the Okinawan music scene. Toru Yonaha is much in demand as a session musician and a fine sanshin player and singer in his own right. Long time female collaborator and singer Mika Uchizato is featured once again as are other young female vocalists Natsuki Nakamura and Ayano Uema. Another significant step forward, Shimadelica takes the rich sounds of Okinawa into previously uncharted territory.
Also English review by John Potter here at Kansai Time Out
œ New Single released March 26th (Okinawa only) on Respect Record REOK-109 1,000‰~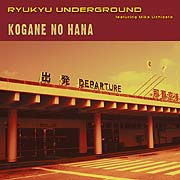 Released March 31st. Tracklisting;
1. Kogane no Hana (Single version)
2. Ashimiji Bushi (Acoustic version)
3. Kogane no Hana Dub
For those who are outside of Okinawa and would like to get hold of a copy it is Also available from Washita Shops around Japan and from Respect Records website (Japanese).
œ Upcoming Press interviews
Look out for these Ryukyu Underground interviews coming up soon
TV
Skyperfect TV ch 271 "Lucy's Room" - 18/04/2006 & 31/05/2006
Radio
FM Okinawa - Island Music Stream o/a t.b.c.
FM Yokohama - Ryukyu Time 23/04/2006
Radio 1 "Music Metropolis" (Nagoya) - 23/04/2006
Shibuya FM "Ryukyu Underground Special" - 26/04/2006
NHK FM - Asia Pop Window 08/05/2006

Magazines & Newspapers

Okinawa
Okinawa Joho - 28/04/2006
Piratsuka-Goyomi - 30/04/2006
Uruma - 03/05/2006
Hands - 05/05/2006

Japan
Yomiuri ShimBun - 06/04/2006
Nikkei Economic - 04/2006
Asahi Shimbun - 04/2006
VA (Tsutaya CD shop) - 20/04/2006
Metropolis - 21/04/2006
Remix - 30/04/2006
Big Issue - 01/05/2006
Floor Net - 31/05/2006
Studio Voice 02/06/2006
Sotokoto - 05/06/2006
œ New Mp3s uploaded!
We know it's hard to find our CDs outside of Japan (though all our releases are available through UK distributor Farside Music) so we are making a couple of new tracks avalable for download. From the new single the dubbed up "Kogane no Hana Dub" and from the new album "Thirteenth Moon". Enjoy! Also don't forget to check the Sounds page where you can find more of our tunes to download.
We are also working on making our music available through i-tunes in Europe and the US. More details when it happens.
œ Keith Gordon DJ schedule
Upcoming DJ appearances
May 20th (Sat) Cafe Unizon, Ginowan, Okinawa
6pm-12pm Y2000

ChampRoots and ixilab present



"ixi-party"
ChampRoots regular DJs - Keith Gordon (from Ryukyu Underground), Takuji a.k.a Geetek, Nu-Doh and Viva Gilberto.
Ambient live performances from Paul Mahoux (Guitar), Wataru Kousaka (sanshin) and Oyamada Man (tabla)

Jan 31st 2006
Shimadelica New album news
We have finally finished the next Ryukyu Underground album! Two years in the making "Shimadelica" is due for release on April 26th 2006 on Respect Records. We just got back from mastering in Tokyo at Bernie Grundman's mastering with Mitzukazu Tanaka. We are again working with the excellent Mika Uchizato and the multi-instrumentalist Toru Yonaha (sanshin, koto, fue - Okinawan flute and taiko). The album also features a couple of young up and coming vocalists, Natsuki Nakamura and Ayano Uema.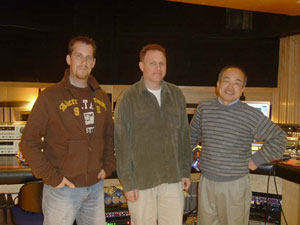 Keith Gordon, Jon Taylor, Mitsukazu Tanaka (Bernie Grundman Mastering)
Kogane no Hana Okinawa only release
We are releasing a special 3 track CD single ahead of the release of the new album as an exclusive release in Okinawa. The single will feature alternate versions of tracks from the album - a single version of "Kogane no Hana", an acoustic version of "Ashimizu Bushi" and a dubbed up "Kogane no Hana". Due to be released at the end of March...
œ Keith Gordon DJ schedule
Upcoming DJ appearances

2006.02.11
Champroots @Nekke2, Kokusai Dori, Naha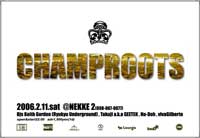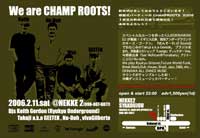 2006.03.24
Osaka Triangle (T.B.C)
Keith Gordon (from Ryukyu Underground), Ryukyu Disko....
2006.03.31
Champroots @ Hinotama Hall, Naha
œ Ryukyu Underground DJ appearance in Tokyo
Friday Dec 23rd MXTronica @ Womb, Shibuya Tokyo
Ryukyu Underground will be doing a special DJ performance featuring live shamisen performed by Toru Yonaha..
œ Keith Gordon DJ appearance in Okinawa
Saturday Dec 24th "Champroots" @ Pink Salon, Naha.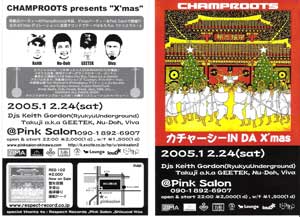 March 28, 2005
Video uploaded
A video directed by Yasutaka Shinjo featuring Ryukyu Underground's Kokusai Dori Dub was recently screened at the 2005 Okinawa Short Film Festival. You can see it in here medium quality (7.9mb) or High quality (15.8mb). *to watch the video clip you will need QuickTime

Also watch a recent interview with Keith Gordon streamed at the idubokinawa website.
Feb 11, 2005
New compilation album "An Evening with Ryukyu Underground" out March 2, 2005.
We recently finished up a mix compilation for Respect Records. Due out in March 2, 2005, its titled "An Evening with Ryukyu Underground." The CD features 15 tracks, quite a few previously unreleased, from some of our favorite world music artists/producers as well as some remixes we had not released yet. Artists include Karsh Kale, Ex-Centric Sound System, Nortec Collective and many more.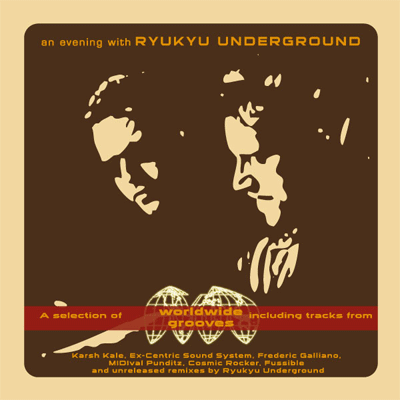 Track list:
1. The Spaces in Between / Bob Holroyd
2. Alone / Ansar Featuring Dum Dum Project
3. Speech / Sandhya Sanjana and Michel Banabila (previously unreleased)
4. Mirrors and Windows / Cosmic Rocker
5. When You Smile (Ryukyu Underground Pacific Dub) / Yuri Chika (previously unreleased)
6. An Indian Summer (D.I.V. mix) / Al-Pha-X
7. Letting Go (Ryukyu Underground Mix) / Karsh Kale (previously unreleased)
8. Prayer / Bhakta
9. Ebae/ Ex-centric Sound System
10.Valiente (ide version) / Latrama (previously unreleased)
11.Night (Ryukyu Underground Mix) / Midival Punditz (previously unreleased)
12.Odyssea 2000 (extended mix edit) / Fussible
13.Melou Melou / Frederic Galliano & The African Divas
14.Secret Place (Karsh@Kale mix) / Prem Joshua
15.Entheogen / Solomon (previously unreleased)

Ryukyu Underground track featured on new Buddha Bar VII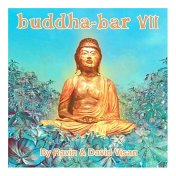 Mo Ashibi (Jason Bentley mix) taken from the album "Ryukyu Remixed" appears on Buddha Bar VII released on George V records and available worldwide February 14th 2005.
June 21st
New Album Ryukyu Remixed Release June 23rd!
Out on Respect Records this is the third Ryukyu Underground Album. A double CD of remixes of our first two albums by artists such as Kid Loco, Da Lata, Junkie XL, Bill Laswell and Karsh Kale among others. At the moment these are going to be released in Japan through Respect Record only but we hope to have them made available worldwide. Watch this space!

Full tracklisting
Disc-1
1.Akata Sundunchi (Kid Loco remix)
2.Shinkaichi (Saru remix)
3.Kuijin nu Hana (Da Lata mix)
4.Soi Soi 2004
5.Mo Ashibi (Jason Bentley remix)
6.Seragaki (Junkie XL remix)
7.Sefa Utaki (Lelonek mix)
8.East is East (Chaos Luda mix)
9.Koi no Michikusa (Bill Laswell remix)
Disc-2
1.Yanbaru Birdcall (Rohan mix)
2.KanasandoiBrown Sounds Remix)
3.Ashibi Shongane (Richard Kirk remix)
4.Agarijo (Sharaab remix)
5.Hana iProgressive Breaks mix)
6.Seragaki (Karsh Kale remix)
7.Mo Ashibi Breaks (RU mix)
8.Koza RiotiDepth Charge mixj
9.Soi SoiiDubfarm mixj
10.Akata Sundunchi iAcoustic Versionj
May 26th



Okinawa Lounge CD single is now available in the US and Europe as a Japanese import. For all of our non-Japan based fans, in the US you can get copies of the Okinawa Lounge CD from CDquest here, and www.jpophelp.com carries most of our releases including the hard-to-find Mo Ashibi, here. In the UK you can get Okinawa Lounge at Juno Records here.



Also forthcoming in early July from Baroque Records in the UK: [BARQ040D1] Ryukyu Underground - Seragaki A: Junkie XL Mix B: Original Mix
[BARQ040D2] Ryukyu Underground - Seragaki (Remixes) A: Quivver Mix B: Sunrise Mix. This will be a double 12" of mixes, and is already getting some good press and play from progressive DJs like John Digweed and Parks and Wilson.

CD Single released May 12 2004

Released in Japan on Respect Record. May 12.
"Ryukyu Underground presents Okinawa Lounge"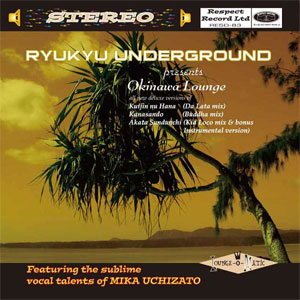 Tracklisting
1) Kuijin nu Hana - Da Lata mix
2) Kanasando - Buddha mix
3) Akata Sundunchi - Kid Loco mix
4) Akata Sundunchi - Kid Loco Instrumental mix

March 14 2004
New releases out now on Vinyl in Japan on Respect Record.
Two 12" of tracks from the forthcoming Ryukyu Underground album "Ryukyu Remixed" were released in Japan March 12.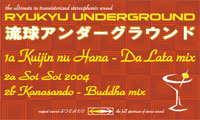 Tracklisting
1) Kuijin nu Hana - Da Lata mix
2a) Soi Soi 2004
2b) Kanasando - Buddha mix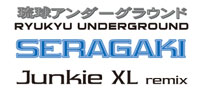 Tracklisting
1) Seragaki - Junkie XL mix
2a) Seragaki - Sunrise mix
2b) Seragaki - Original mix

Buddha Bar VI:

A special mix of Kanasando from the Mo Ashibi album out now on the new collection from George V Records.

Remixes:
Ryukyu Underground has done recent though as of yet unreleased remixes for Karsh Kale, MIDIval Punditz, Saru/Spooky Monkey (listen online)

Gallery now up!
check out the gallery pages. View a slideshow of Ryukyu Underground artwork and download desktop background images.
October 26th 2004

upcoming DJ schedule Keith Gordon
2005.'T.'R'O ( Mon ) Ian O'Brien & Charles Webster "Planet to the Galaxy" vol 2 @ Club MnD, Naha, Okinawa
2005.6.11 (Sat) Champroots @ Club MnD, Naha, Okinawa
2005.6.28 (Tues) Hairwalk in Okinawa vol 3 @ Club MnD, Naha, Okinawa
2004.11.20 (Sat) @ Oriental Jazz. Pink Salon, Naha, Okinawa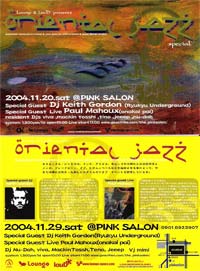 2004.12.19 (Sun) Aki Ueda Album launch Party @ Aoyama Cay. Tokyo more info
2004.12.24 (Fri) Toru Yonaha live 'Kachashii a go-go' @ Naha. Okinawa (Venue tbc) - more info (in Japanese)
2004.12.26 (Sun) Toru Yonaha live 'Kachashii a go-go' @ Aoyama Cay. Tokyo - more info (in Japanese)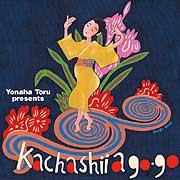 Unreleased Remix mp3s online
Richard H. Kirk, famed electronica pioneer did a number of additional remixes for us which we didn't have room to release on Ryukyu Remixed. We've decided to make these available as free mp3 downloads. Get them here.
August 10th 2004

Photos up from beach party.

Many thanks to Daniel and Ryo-chin for most of these. View them here

Also some lo-fi quicktime movies taken with a still camera of the opening acts Tiida and Chaos luda.


Tiida opening, opening2, adan, kachashii


Chaos luda one, two
You will need quicktime to view these. get it here
July 23rd
Beach Party Report

A big shout out to all those who came down to Miyagi Beach on Sunday for the Beach Party. Everything went better than we could ever haved imagined, over 500 people showed, the weather was glorious and we went till 6am. Special thanks to all DJs, Takuji, Ryo, Tomohiro, Ryo-chin and those who showed up on the night and guested - John Monroe, Ski, Dan-san and Viva. Extra special thanks to Chaos Luda for excellent VJ and live sets, also Tiida - the four Junior High School girls who performed Okinawan Minyo at the start of the night, superb...Big up to Roach for the sound system and all his help - if any one out there needs sound for their party Roach is definitely worth checking...
So many positives to take away from the event, a very cool crowd of different folks all mixing together and enjoying a pretty wide variety of music, the local village Chief - a dear old lady in her 70s - coming down for the beach clean up and staying all day and into the night overjoyed at all the people who came down to her town and cleaned up, a good amount of money was raised for the Okinawa International Clean Beach Club to continue the good work they do...ah, I'm getting teary eyed...
again, thanks to everyone involved for all their hard work and to all who came down for their hard partying!....(Keith)
Fukuoka event featuring Ryukyu Underground's Keith Gordon

Crossover Record's 6th Aniversary party featuring Ryukyu Underground's Keith Gordon will be held in Fukuoka on August 1st. Venue is O/D and more details (in Japanese) are here or call the club at 092 733 1166. Tickets are Y1500. This event is sponsored by Love FM.
Press Updates

Lots of new interviews and articles up on the info page. Some in English and lots in Japanese....
June 5th
Annual Mo Ashibi Beach Party...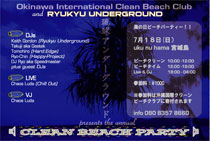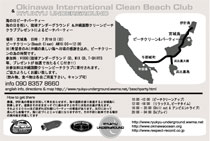 Together with the Okinawa International Clean Beach Club Ryukyu Underground is presenting the annual Mo Ashibi Beach Party on Sunday July 18th at Uku nu Hama in Miyagi Island in Okinawa. Okinawa International Clean Beach Club has organized monthly beach clean ups around Okinawa for the past ten years and this will be the third time we have linked up to promote and raise some funds for them. All proceeds will be donated to the OICBC and OCEAN and this year's event looks like being the best yet.

May 30th

New mp3s uploaded!

As requested we have added two tracks from our forthcoming album "Ryukyu Remixed" to the sounds page. Lelonek's mix of Sefa Utaki and also Jason Bentley's remix of Mo Ashibi. Download here
May 25th

Kuijin nu Hana selected as power push song



J-Wave FM - Tokyo's most popular FM station has selected the Da Lata remix of Ryukyu Underground's "Kuijin nu Hana" as their pick for power play for June!
Fukuoka's Love FM has also picked up the Da Lata remix as their power push song for June. Love FM broadcasts bilingually throughout Kyushu.
Upcoming press dates

Look out for interviews with Ryukyu Underground's Keith Gordon in the Japanese press

June 20 Latina magazine
June 29 Remix Magazine
June 30 Magi Music Magazine
June 30 Okinawa Club
July 1 Okinawa Joho
July 5 Okinawa Hands
July 5 Studio Voice Magazine
July 7 TV Bros Magazine
July 24 Monthly M Magazine

Gallery now up!
check out the gallery pages. View a slideshow of Ryukyu Underground artwork and download desktop background images.