● 3rd Album "Shimadelica" Release April 26th 2006 on Respect Record RES-110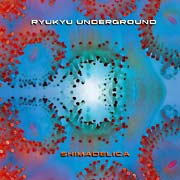 Track Listing (Click the title to preview - real media files)

1. Suminashi
2. Shimadelic Sound System
3. Kogane no Hana
4. Udui
5. Sesoko
6. Thirteenth Moon
7. Ashimi Bushi
8. Uprising
9. Erabu no Komoriuta
Review from Farside Music
Shimadelica is the long awaited third album, the first in three years, from the US/UK duo, Ryukyu Underground. 'Shimadelica' sees the guys back in the studio, recording with live musicians and adding beats, rhythms, and some surprises too to create the trademark, unique sound that is Ryukyu Underground.

Jon Taylor and Keith Gordon bring some new ingredients to the RU blender this time. 60s and 70s psychedelic music are mixed with the local sounds of Okinawa. Those local ingredients are still at the root of their music. The largest of the Ryukyu Islands in the deep south of Japan, Okinawa's thriving roots music scene is unique, encompassing minyo and shima uta (meaning 'island songs') together with an equally vibrant scene of pop, indie rock and dance. Small, dark, cavernous clubs reverberate to the latest beats, contrasting with the white beaches, turquoise seas and natural beauty of the island.
Funky rhythms, progressive house, 90s Brit rock, dub, trip hop, Brazilian, Arabic, Indian plus other world and club influences all help to take the listener on a global trip that begins and ends in Okinawa. Ryukyu Underground have employed the talents of some of the brightest young names from the roots side of the Okinawan music scene. Toru Yonaha is much in demand as a session musician and a fine sanshin player and singer in his own right. Long time female collaborator and singer Mika Uchizato is featured once again as are other young female vocalists Natsuki Nakamura and Ayano Uema. Another significant step forward, Shimadelica takes the rich sounds of Okinawa into previously uncharted territory.
Also English review by John Potter here at Kansai Time Out

● CD single [Kogane no Hana ] Respect Record REOK 109
released 3/2006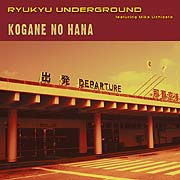 1.Kogane no Hana (Radio mix)
2.Ashimiji-bushi (Acoustic mix)
3.Kogane no Hana Dub

For those who are outside of Okinawa and would like to get hold of a copy it is Also available from Washita Shops around Japan and from Respect Records website (Japanese).

● Compilation Album [An Evening with Ryukyu Underground ] Respect Record RES 93
released 3/2005




● Remix Album [Ryukyu Remixed] Respect Record RES 81-82
released 6/2004



also available outside Japan through Farside Music
【tracklisting】
Disc-1
 1.Akata Sundunchi (Kid Loco remix)
 2.Shinkaichi (Saru remix)
 3.Kuijin nu Hana (Da Lata mix)
 4.Soi Soi 2004
 5.Mo Ashibi (Jason Bentley remix)
 6.Seragaki (Junkie XL remix)
 7.Sefa Utaki (Lelonek mix)
 8.East is East (Chaos Luda mix)
 9.Koi no Michi Kusa (Bill Laswell remix)
Disc-2
 1.Yanbaru Birdcall (Rohan mix)
 2.Kanasando ー(Brown Sounds Remix)
 3.Ashibi Shongane (Richard Kirk remix)
 4.Agarijo (Sharaab remix)
 5.Hana (Progressive Breaks mix)
 6.Seragaki (Karsh Kale remix)
 7.Mo Ashibi Breaks (RU mix)
 8.Koza Riot(Depth Charge mix)
 9.Soi Soi(Dubfarm mix)
 10.Akata Sundunchi (Acoustic Version)
review from Farside Music
On RU's stunning remix album, tunes from the first two CDs are given new mixes by a dazzling array of like-minded DJs, musicians, producers, remixers, other creative artists and Ryukyu Underground themselves. All collaborators on this project were chosen by Jon and Keith. Some they have previously worked with, while others they have long admired. They include some of the top names in the world dance music scene, alongside equally talented up and coming artists. The breathtakingly diverse range of styles includes ethnic lounge, ambient, techno, dub, and ethnic drum and bass over 2 CDs and 126 minutes of pulsating music. Remixers featured are Kid Loco, Saru, Da Lata Jason Bentley, Junkie XL, Lelonek, Chaos Luda, Bill Laswell, Rohan, Brown Sounds, Richard Kirk, Sharaab, Karsh Kale, Depth Charge and Dub Farm.




● CD single [Okinawa Lounge] Respect Record RESD 83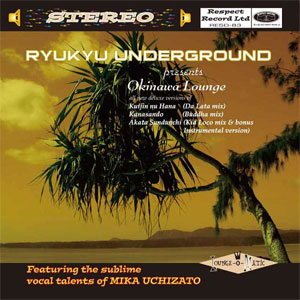 released 4/2004
【single tracklisting】
 1. Kuijin nu hana (Da Lata mix) 6:29 
 2. kanasando (Buddha mix) 6:16
 3. Akata Sundunchi (Kid Loco mix) 5:34 
 4. Akata Sundunchi (Kid Loco instrumental) 5:34

● Junkie XL remix - 12" vinyl Respect Record RESA-85
released 3/2004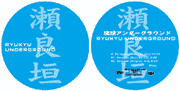 A- Side
  1. Seragaki (Junkie XL mix)
B- Side
  1. Seragaki (Sunrise mix)
  2. Seragaki (Original mix)
● Da Lata remix - 12" vinyl Respect Record RESA-84
released 3/2004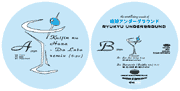 A- Side
  1. Kuijin nu Hana (Da Lata mix)
B- Side
  1. Soi Soi 2004
  2. Kanasando (RU Buddha remix)
also out on Baroque Records in the UK
BARQ040D1] 12" vinyl Ryukyu Underground - Seragaki
A: Junkie XL Mix
B: Original Mix

[BARQ040D2] 12" vinyl Ryukyu Underground - Seragaki (Remixes)
A: Quivver Mix
B: Sunrise Mix

● 2nd Album [Mo Ashibi] Respect Record RES-73 released
5/2003

also available outside Japan through Farside Music (This album was not released outside of Japan. Please don't ask us why, we tried!)

The 2nd album "Mo Ashibi" takes it's name from the all night parties that were common in Okinawa before the second world war. Held in the sugar cane fields near the beaches the musical accompianment would be love songs and faster 'kachashii' played on sanshin and taiko.
【tracklisting】
1.Hana ~Extended Mix~ 
2.Mo Ashibi 
3.Koi no Michikusa 
4.Sefa Utaki 
5.Seragaki 
6.Kuijin nu Hana 
7.East is East
8.Kanasando 
9.Akata Sundunchi 
review from Farside Music
Following the success of their first album, Ryukyu Underground release their much anticipated follow up. In contrast to their first album, which sampled many traditional recordings on local labels, this time around Jon and Keith were keen to cooperate and interact with Okinawan musicians in laying down the basic tracks. Despite his young age, Toru Yoneha is one of Okinawa's top players, much in demand as a session musician. of the sanshin, the three stringed snake skinned banjo at the heart of Okinawan traditional music. In female singer Mika Uchizato, they have unearthed a real new talent. It's Mika's beautiful voice that is heard on the opening track 'Hana' originally recorded by legend Shokichi Kina, and one of Okinawa's best known songs around the world. 'Koi no Michi Kusa', features Mika over a heavy dub backing, a sound that has become one of the trademarks of Ryukyu Underground. Elsewhere Kuiji nu Hana is set to an infectious bossa nova/samba rhythm, Sefa Utaki has a laid back ambient drum 'n' bass feel, while Kanasando is in a downtempo lounge style.